Hello everyone welcome to Jig-saw and Pmdrrt Recolour and Fusion shop
Were open to all costumers and were open 24/7
Were doing this so we can improve our skills and make you people feel proud of having a good splice or recolour.
I will do any requests also Pmdrrt will aswell.
.
My Work
Neon Versions
1.
My neon/Fusioned (Name:Deorock)
~Fushions.!
2.
My favoirte Sprite Half Good and Half Bad Charizard
3.Version 1
Version 2
version 3
Pmdrrts Work
Edit by jiggy comment >> That is best fusion/recolour ive ever seen.

Arxray - Luxray/Arcanine
Delzard - Delcatty/Charizard
Chinbat - Chinchou/Crobat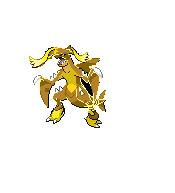 Alachomp - Alakazam/Garchomp
Gorebunny - Gorebyss/Lopunny
Rypoleon - Empoleon/Raikou
Dribafet - Wobbaffet/Drifblim
BloodFireZ69's
http://img822.imageshack.us/i/skoruterr ... .jpg/Image
<---- Skoruterrahippolily -- Normal Fusion(Unrecolored)
http://img541.imageshack.us/i/magmolect ... .jpg/Image
<---- Magmolectigrowth -- Fusion & Recolored
Form Layout
Fusioned or Spliced:
Who do you want to Splice Jig-saw or Prmdrrt:
What pokemon are being fusioned or Spliced:
Thats basically it..